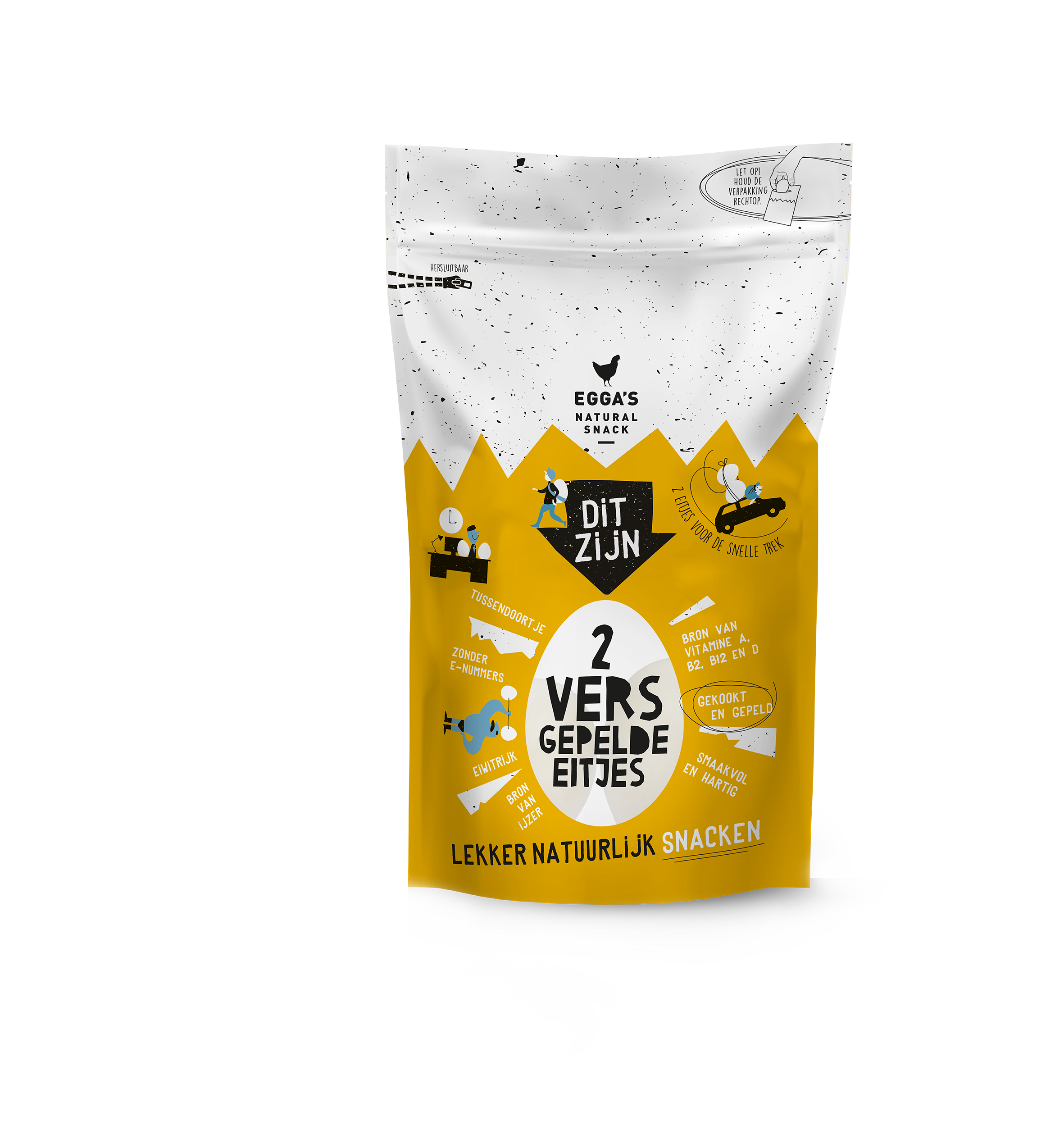 Eating eggs is egg-ceptionally easy with Egga's!
There's a good chance you have already eaten one of Egga Food's eggs. The numbers speak for themselves as the company cooks, dyes, peels, and packages millions of eggs each week for wholesalers, supermarkets, hotels, restaurants, food service companies, and caterers. Egga Food hatched a plan to introduce a new product: super-fresh boiled and peeled eggs. The convenient resealable packaging, in pairs or in a six pack, ensures that these eggs remain fresh for at least two weeks. You can find them in the refrigerated section of your supermarket. They are a tasty and healthy snack as they are, and can also be used in a salad or to complement vegetables such as spinach, asparagus, or lettuce. These eggs are so convenient – they are an easy source of essential vitamins and minerals without the hassle of boiling and peeling them!
Egga's- a convenient and healthy snack
Eggs are a great way of giving the body energy and proteins, making them a great way to give you a boost. They are perfect for people of all ages: after exercise, during a break, or at work. Boiling an egg may not be difficult but it is time-consuming and peeling an egg isn't always easy. Egga's are ready to eat with no fuss, as they are ready to serve or eat straight from the fridge. Egga's are fresh, tasty, and healthy.
Eggs are part of a healthy diet and lifestyle. Nutritional guidelines – including the Dutch schijf van vijf (five essential food groups) – classes them as an important source of vitamins A, B2, B12, folic acid, D, and E, vitamins that are all essential for the proper functioning of our bodies. For example, vitamin B2 is crucial in maintaining energy levels and vitamin D helps keeps your bones and teeth strong. Eggs also contain proteins as well as minerals such as iron, zinc, phosphorus, selenium, and iodine. The body needs amino acids, the building blocks of proteins, to produce and sustain cells in your blood, skin, muscles, and bones.
Egga's are barn eggs or free-range eggs that are only supplied to us by companies that we have checked and certified. Egga's are will keep for at least two weeks in sealed packaging as they are guaranteed to be fresh and are processed according to the strictest hygiene standards. Our quick and automated processing facilities in Ospel make sure of that.
Egga's – the food for all ages
Egga's can be used or eaten at any time of day and in all manner of dishes. You can eat them as they are or add them to a sandwich. They are also very convenient when making stuffed eggs, egg salad, or an hors-d'oeuvre. They're just so easy to use, especially when guests arrive unannounced. If you want to give your child a healthy snack for their break time, Egga's make it egg-ceptionally easy to eat an egg.